Diwali
raghubir ki paak yaad ka unvan liye hue | zulmat ke ghar mein jalva-e-taban liye hue
tarikiyon mein nuur ka saman liye hue | aayi hai apne saath charaghan liye hue
~ Arsh Malsiyani
It is two days from Diwali. Are you not going to get lights and diyas for the house this time? My mother asked. She reminded me of my ritual of celebrating Diwali since a little kid, where I always loved decorating my home with lights. In our colony in Ramgarh, I was the youngest, so neighbors would put me on the chappar (thatch) to keep all the beautifully lit earthen lamps full of oil and diya batti. I would put them in a row equidistance from each other; after all, Deepavali (aka Diwali) means lights in a row and chant mantra, 'Tamso-ma-jyotir-gamaya' which signifies the journey from darkness to light.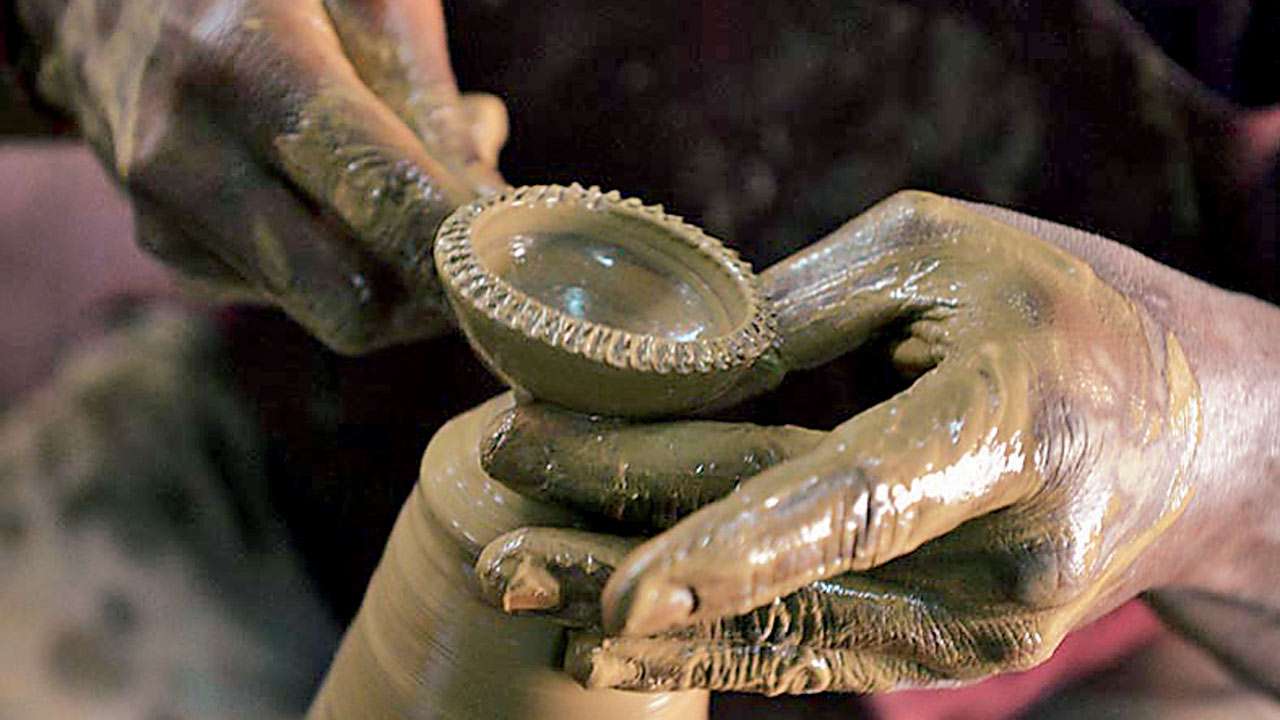 Diyas have gone out of "fashion" now and replaced by the more advanced cousin, candles, lamps, and electric lights with many colors, shapes, and sizes. While using electric lights is much more economical and helps cover the entire house and neighborhood, make the desired shapes, and change the color of lights the way you want. Still, it lacks the charm and the aura of Diwali of my childhood.
As per the good old tradition, you should purchase diyas on Ashwin Purnima, full moon day, 15 days before Diwali. You must have noticed this is also when the markets get a makeover, everything is bright and shiny, and you'll find a sea of people, from sellers to buyers to just strollers. Once you buy these diyas, you should soak them in water till they are saturated, and then they are ready for the puja.
Apart from Eid, Diwali and Christmas are two other favorite festivals of mine, and I am sure I share my common grounds with so many Indians around the world.
As a kid, we never bought many crackers for three main reasons: they were quite expensive, and second, someone from the neighborhood will always have enough. All our crackers would come to one pool, and all of us would enjoy the sound, colors, and happiness around the festival. The third and perhaps the most important reason for me was that I used to buy batasha and other sugar sweets moulded in various shapes colors since I was always interested in food. My favorites were pink, white, and red in the lion, elephant, parrot, and tree shapes.
The favorite part for me has always been the stories. Families would gather, visit each other's' house wishing, and share the plates of dishes and sweets. I will reach a little early to my neighbors' house to attend the puja in my white kurta, which we always used to buy in Eid. I won't just stand in prayer position but also question and learn more about the festival's various rituals.
Since Diwali is celebrated on the new moon day with darkness in the sky, people light millions of lamps to get rid of the dark. As per the common belief, evil spirits gain power and become active when there is no light. So diyas are lit in every corner of the house to weaken those evil forces.
Diyas are not just to light up and make everything look gorgeous, but there is a more profound significance to the diya. The oil in the diya is a symbol of dirt in the human mind —greed, hatred, lust, to name a few. Batti, the cotton in diyas, is symbolic of the Atma, the soul. The diya presents light when the wick burns the oil. Hence, the lighting of the diyas signifies that one needs to get rid of the selfish and materialistic thoughts and move on to a path of enlightenment.
An ideal way of celebration starts with placing the idols properly and correctly, from left to Lord Ganesha, Goddess Laxmi, Lord Vishnu, Mata Sarawati, and Mata Kali, and then Lakshman, Lord Ram, and Mata Sita. The diya should be in the count of 11,21, 51 with a few other diyas full of Ghee or mustard oil, which should stay lit throughout the night.
There are many legends around Diwali; the most common one is Diwali's night commemorates the return of Lord Rama (along with Ma Sita and Lakshman) from his 14-year-long exile and vanquishing the demon-king Ravana. It was to welcome him; his people illuminated the kingdom with diyas. Some believe it is the celebration of Lakshmi's marriage, the goddess of wealth, with Lord Vishnu. While in Bengal, the festival is dedicated to the worship of Mother Kali, the dark goddess of strength. In Jainism, this is the same day when Lord Mahavira attained the eternal bliss of nirvana. And, the most scientific reason is most likely as an important harvest festival.
In Bihar & Jharkhand, the crop is harvested a week before Diwali. During this festival, sweet potato tubers are offered to the Sun God on the occasion of Chatt Pooja.
Diwali in Bihar has many other significances beyond the usual. Suraj Narain Singh's great escape from Hazaribagh Jail in 1942 (Bihar Through The Ages by Ritu Chaturvedi) was widespread in every house of that time. 8th November 1942, diyas were lit around in the jail. Few were cherishing and singing Diwali songs while Singh was busy scaling the walls and fleeing from there. Singh, JP Narayan, and few others ran away from the jail's tall and strong walls. The British government announced a prize and put a bounty of Rs 50,000 on his head. Suraj Narain Singh, whose bravery made the Quit India Movement of 1942 in Bihar a memorable one.
This courageous freedom fighter became the victim of criminal politics and got murdered in Tati SIlwe, a few kilometers from Ranchi, over political unrest and disagreement. His closest confidant JP Narayan said he was not in this much grief and pain even when he lost his wife, Prabhawati.
If we move beyond politics and go to the beautiful Mughal era, we find the same festival celebration under the name Jashan-e-Chiranghan. This festival was louder and brighter than Shab-e-Raat in Shahjahanabad (Old Delhi). Jashan-e-Chiraghan held sway in the mahals and courtyards where the akash diya (light of sky) was lit with greater pomp, placed atop 40-yard high pole, supported by 16 ropes and fed on several mounds of binaula (cotton seed oil) to light up the darbar. A giant-sized statue of Tesu Raja and his wife Jhainji, symbolised by illuminating pots would also be out for immersion in the holy water of Yamuna.
The candles and mashals vied with the jharfanoos to lend a perpetual glow to the gay and golden night which came few times in a year — Diwali, Nauroz, and on the emperor's birthday.
According to R.V. Smith, the Rang Mahal in the Red Fort was the venue of Diwali and Basant celebrations during the time of Mohammad Shah (1720-1748). Mughal connection with Diwali began in the reign of Akbar at the Agra Fort and Fatehpur Sikri, where the palaces of Jodha Bai and Raja Birbal were also situated. Jahangir and Shahjahan had milder Diwali celebrations, and Aurangzeb was content with receiving gifts from his Rajput generals like Raja Jaswant Singh of Jodhpur and Jai Singh I of Jaipur. His grandson, Jahander Shah, ruled for just about a year and celebrated his Diwali at Lahore with concubine Lal Kunwar.
Mughals celebrated Diwali with feasts and fireworks and was part of the cultural ethos that Mughals had developed in Hindustan. Malik Mohamed, in the book The Foundations of the Composite Culture in India, writes that during the time of Diwali, a puja darbar was held. Two decorated cows with garlands of cowries were brought in the garden by the Brahmans, possibly because of the Govardhan puja that followed Diwali, or the Mughal capital Agra's close geographical as well as cultural proximity to Mathura and Vrindavan. It's also something attested by the fact that Akbar and later Mughals patronized various Braj language poets. The Mughal rulers, therefore, were familiar with Braj traditions and cultural idioms.
What connected Indians back in days and to date are these festivals, which stitches them together to something called the Ganga Jamuni Tehzib of Hindustan.
Today, when I stepped out to get Diya and candles, I was reminded of this culture by the vendor who was sitting in the busy market of Malviya Nagar with his red mat stretched till the end of the road, loaded with traditional diyas and fancy lights. I asked him why does he have both and which one is his favorite. He confidently said I like the earthen lamps because my father makes them every Diwali, and at our house, we light 50 of these lamps in mustard oil and one with ghee.
And, let's end with Gandhi Ji's first Diwali speech in the independent India on 12th November 1947
…..Only those who have Rama within can celebrate this victory. For, God alone can illumine our souls and only that light is real light. The bhajan that was sung today emphasizes the poet's desire to see God. Crowds of people go to see artificial illumination but what we need today is the light of love in our hearts. We must kindle the light of love within. Then only would we deserve congratulations. Today thousands are in acute distress.

…This is the test for you. Rama and Ravana are symbols of the unending struggle between the forces of good and evil. True light comes from within.
Diwali/Deepawali/ Jashan-e-Chiranghan Mubarak.